business meetings
Make your meetings effortlessly multilingual
Overseas roadshows, fundraisers, conferences, M&A proposals; no matter the meeting, being understood is the last thing you need to worry about.
Let us handle the language barrier so you can focus on closing the deal.
Quality
Our linguists are professionally trained and highly experienced, with preference given to those possessing advanced degrees in translation and interpretation from reputable universities worldwide.
Finance Industry Professionals
Our founding team spent most of their careers working in finance. We know just how painful it can be to sit through a call or meeting with bad translation. Our interpreters are specially trained to serve institutional investors; they're not just well-versed in complex financial jargon, but also in the formats and desired outcomes of different meeting types.
Bespoke Matchmaking
From the minute you submit your request, our dedicated account managers are there to assist you every step of the process. Our associates draw on a pool of over 2,500 linguists in 400 cities around the world to find the perfect match for your project.
Complete Confidentaility
Confidentiality is of the utmost importance, both to us and our clients. Our compliance procedure comprises rigorous supplier vetting and back-to-back NDAs governing our relationship with both clients and linguists.
Use Cadence to find the perfect linguist for your next in-person event.
Ensure your events are as productive and inclusive as possible with quality simultaneous interpretation – it's how the U.N. and other international organizations make sure that everyone in the room understands one another.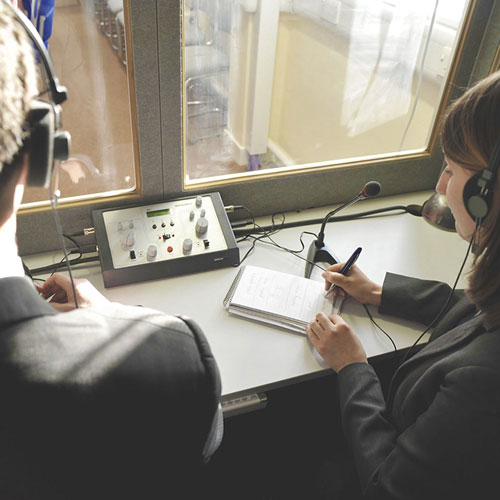 What we offer
Simultaneous interpretation is just that - simultaneous. We staff two professionally-trained conference interpreters with relevant industry background to interpret real-time between two languages while your on-stage speakers talk.
We also provide all interpretation equipment, including personal headsets for each attendee to listen live in their language of choice.
We recommend conference interpretation for your next:
International conference
Large-scale investor meeting
Multinational training
PR event
Whether your meetings are in Beijing or Buenos Aires, you want to make sure that your message is understood. With vetted translators in over 400 cities around the world, we make sure you've got a professional at your side no matter where your business takes you.
What we offer
We provide one highly skilled interpreter with relevant industry background to facilitate communication between you and your clients. This classic style of interpretation is the most flexible and ideal for small-scale meetings and events.
We recommend meeting interpretation for your next:
Overseas roadshow
Partner meeting
Management team meeting
Factory tour
"Cadence made meetings with both our local partners and clients at least twice as productive and efficient as ever before."
Senior Director of Strategic Marketing at Picarro, Jean Ann Berthold